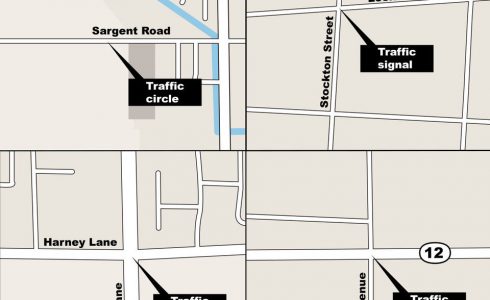 Lodi To See First Roundabout Installed
Aug 12, 2014
Lodi's first traffic roundabout is being planned for the Rose Gate neighborhood currently under construction near Raley's, with others possible in the future.
The roundabout will be located on Sargent Road as one of three entrances to Rose Gate at the future Westgate Drive extension. It will be 110 feet wide with a landscaped center island about 62 feet in diameter.
FCB Homes, the Stockton development firm building the Rose Gate subdivision, will be responsible for installing the roundabout, said Charlie Swimley, city of Lodi engineer.
"The intent is to create a traffic calming measure as folks approach town from the west, as well as create landscaping that welcomes people to town," he said.
Depending on its ability to calm traffic, Swimley said more roundabouts could be installed on Lodi streets in the future.
Lodi's first roundabout will be modeled after one in Oakdale, located at Bridle Ridge Way and Willowood Drive, he said.
The two Oakdale roads are both two lanes wide, and landscaped medians are installed at the intersection. A round island with a large tree was installed in the roundabout's center.
Swimley said he has driven through the Oakdale roundabout, and said it prevents motorists from traveling at more than 20 miles per hour.
Roundabouts will ultimately reduce delay, collisions, noise and air pollution, according to Swimley.
There are 3,700 roundabouts in the United States, he said. The closest one to Lodi is in Woodbridge, located at Woodbridge Road and Chestnut Street.
The city of Galt recently installed two roundabouts on Twin Cities Road at both the eastern and western intersections of Stockton Boulevard, just off Highway 99.
Galt Public Works Deputy Director Gwen Owens said the two intersections had previously been equipped with four-way stoplights. However, traffic between the two intersections had become severely congested over the years.
Owens said the roundabouts were officially opened to the public in June.
"Once people got used to seeing the roundabout and using it, it worked like a charm," she said. "There are many benefits to a roundabout. They add to roadway capacity, meaning you can have more vehicles traveling on that particular road, and they can add years to a road's useful life."
Lodi City Councilman Alan Nakanishi said he was first doubtful a roundabout would work in Lodi. But after Swimley's presentation, he said he was warming to the idea.
"When people hear about (a roundabout), they're going to ask what the city council is thinking, putting this in here," Nakanishi said. "But I think when they see it and actually use it, they'll be happy to have this in town."
Three intersections to get traffic signals
Swimley also presented to the council plans to install new traffic signals in Lodi.
One is planned at the Victor Road and Guild Avenue intersection within the next year.
Another signal will be installed about 1,000 feet south of Harney Lane along Hutchins Street during construction of the Harney Lane Grade Separation project. The signal will help improve safe access to a cherry-packing facility on the east side of Hutchins Street, public works director Wally Sandelin said.
A third signal to be installed at the Lockeford and Stockton streets intersection is currently in the planning stages, Swimley said.
"The signal at Lockeford and Stockton streets is long overdue," Vice Mayor Larry Hansen said. "But I thought a decision was made a while ago that we were going to install that one. What has changed?"
Swimley said staff has chosen to install that particular signal when the Lockeford Street widening project begins. That project involves widening Lockeford Street from two to four lanes between Stockton Street to Cherokee Lane. The city expects to complete the project by 2018.
The city is hoping to use funds from Measure K and the San Joaquin Council of Government's Regional Transportation Plan for the widening project.
Traffic signal expenses
Funds for the traffic signal are expected to come from a Congestion Mitigation and Air Quality grant, Swimley said.
Public works staff said it typically costs a city $50,000 to design a new traffic signal, and as much as $350,000 to construct one. Maintenance costs — which include inspection and equipment replacement — costs about $770 per signal, she said.
The city has installed 12 new traffic signals throughout Lodi since 2000, according to Tuesday's staff report.
Since 1970, The city's public works department has been studying intersections with high volumes of accident histories which do not currently have traffic signals installed, and has installed 12 new traffic signals throughout Lodi since 2000, according to Tuesday's staff report.
Intersections studied by the department must meet Caltrans' qualifications in order to be considered for traffic signals.
Those qualifications include high traffic volume in the intersection; large numbers of accidents that could be prevented with a traffic signal; high speeds; and be located a considerable distance from another intersection with a traffic signal.
During the last year, the city studied 24 intersections throughout town, and determined only 13 met Caltrans' criteria.
Swimley said the council does not have to approve signals for every intersection that made the priority list.
"The council can choose any of these locations for which they'd like to install a signal," he said.