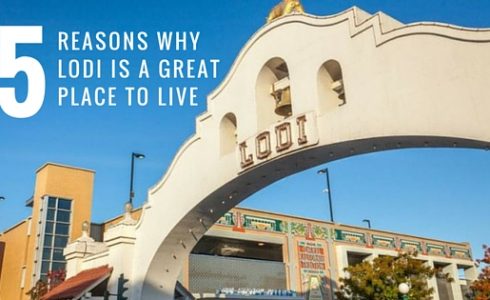 5 Reasons Lodi is a Great Place to Live
Jul 12, 2016
At FCB Homes, we believe the best place to live in California is in the Central Valley. Lodi is a vibrant and growing community, in the middle of a prolific grape growing region, and it's the perfect place for our new home communities.
Lodi is a warm and welcoming place to live. With growing business opportunities, affordable housing, and close proximity to the state capital, San Francisco Bay Area, and popular attractions like Big Sur, Yosemite and Lake Tahoe, there's plenty to love about living in Lodi. Here are some of the reasons why we believe Lodi is a great place to live:
Close to everything!
Lodi is in the middle of everything – just 90 miles from San Francisco, 40 miles from Sacramento, 120 miles from Lake Tahoe and 100 miles from Yosemite, Lodi is centrally located to many of the state's world-class attractions, making it an easy starting point to exploring all the wonderful tourist destinations.
It's a nature-lover's dream come true…

If you like to stay active, Lodi is the perfect place for you. Lodi benefits from a mild climate and residents are able to take advantage of many year-round activities, dozens of parks and recreation facilities, including water sports at Lodi Lake and the Delta, and many family-friendly activities.
…and a foodie's paradise too!

The Central Valley is the "fruit and bread basket" of the state, producing a large amount of produce for the entire United States. Lodi's thriving restaurant scene takes full advantage of the farm-to-table concept, offering patrons the freshest foods available. And now food trucks have become mainstays on our streets, certified farmers' markets and special events, including the monthly Food Truck Mania at Hutchins Street Square.
Lively Historic Downtown

While the area's famous wineries are probably the most popular tourist destination in Lodi, our vibrant downtown district has plenty of activities for everyone. From wine tasting rooms, spectacular dining, shopping, art galleries, the World of Wonders Science Museum, and entertainment venues, it's easy to spend an entire day wandering through the brick-lined streets. Here are 10 can't miss spots in Downtown Lodi.
Festivals, Events, oh my!

Lodi plays hosts to several signature festivals and events throughout the year. From Zinfest, the Sandhill Crane Festival, Downtown Wine Stroll, Cyclefest, Grape Festival, SummerFest and many more, there's always something fun happening. Check out some of the summer events you'll only find in Lodi.
We could go on and on about why we love Lodi but we hope you'll come down and experience Lodi for yourself! If you're looking for a place to call home, we invite you to check out our Rose Gate community in the northwest corner of town. Rose Gate is the gateway to one of Lodi's finest neighborhoods, and amenities including the Westgate shopping center, public and private schools, beautiful Lodi Lake, and our own Rose Gate Park.
Contact us today at FCB Homes to learn more.