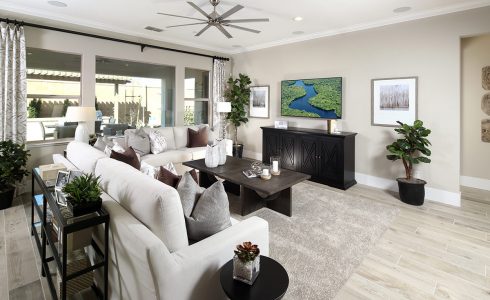 5 Eco-Friendly Ways to Cool Your House This Summer
Jul 19, 2022
The hot summer months are upon us. As the temperatures (and your power bill) soar, how can you keep your home cool in an eco-friendly and sustainable way? We've got you covered. Here are five ways you can stay cool and green this summer.
Close windows during the day
It may seem obvious to open the windows during the day allow the breeze to cool your home, but when the temperatures top 90 degrees, which is common in the Central Valley, you'll only be letting in more heat, especially during the hottest period of the day.
Boost ventilation
Open your windows at night to let the warm air out and fresh air in. Be sure to wait until the outside temperate is less than your home's internal temperature. You can combine this with strategically placed fans to boost ventilation and quickly circulate the cooler air through your home. Consider installing ceiling fans as well – especially in rooms with high ceilings. Not only are they great at cooling rooms efficiently, they can also be used with your air conditioner to move air around.
Block the sun
Closing the blinds, shutters, and curtains can prevent the sun from heating up your home during the day. You can also create shade around your home, especially on the west- and north-facing windows, to help keep it cool. Removable shades, vines, shrubs, or planters are good options.
Don't add more heat
Did you know your appliances can raise your home's temperature? Using the stove or oven can quickly heat up your kitchen. Instead, cook outside or use the hot weather as an excuse to order take out from your favorite restaurant. You should also keep your refrigerator full since full refrigerators don't warm up as quickly when the door is opened, requiring less energy to stay cool. Likewise, save your laundry for the morning or evening hours when it's cooler. You can also unplug appliances you're not using to reduce residual heat.
Smartly use the air conditioner
Cooling your home in an environmentally-friendly way doesn't mean not using the air conditioner at all. Here are some ways you can reduce your AC's load:
Check and change the air filter.
Close the windows and blinds while the AC is on.
Avoid steep temperature changes. Your AC will need to work harder if it has to drop five degrees or more to reach your desired temperature.
Set your thermostat to 78 degrees while you're home and to 85 degrees or turn it off when you're away.
Remove obstructions from the air vents and the unit itself.
These five tips will help you keep your home cool without spending a fortune this summer.
We look forward to welcoming you to your new FCB home! For more information on new FCB homes for sale in Lodi or Riverbank, home designs, and more visit us online at FCBHomes.com.